2015 NP300 ST – Alex Wohling
My Navlife story of my NP300 started in late November 2015, I sort of stumbled into it actually. My work Ute at the time was running on its last legs, and I was in desperate need of an upgrade. Being a Tradesman, I needed a tough, reliable & moderately priced Ute. I had been eyeing off D40 Navara's for a while, so I headed down to my local Nissan Dealership a sussed out what was available. Saw a few second hand ones but out of curiosity decided to have a look at a new NP300. Instantly fell in love! That same day I took a one for a test drive, this persuaded me even more. Got back to the Dealership and managed to get deal for a Demo ST which was on the showroom floor with a few extras (Bullbar, Tow Bar, Tonneau & Window Tint)
I picked up my Navara Mid December. Never planned on doing much to it, just wanted to keep it practical for a work Ute. After a couple weeks, with the constant loading and unloading of my Ute for work, the tonneau cover started to become irritating. So I went out and purchased an ARB Ascent Canopy with Rhino Rack rear bars and while I was at it, spend the few extra dollars and get roof racks for the cab with a basket. After the canopy got installed, the modifying just kept on rolling.
First, I managed to swap my factory ST wheels for a set of used ST-X wheels. A few weeks after that, I decided to tidy up the interior of the Nav &
get a set of Outback 4×4 rear draws with fridge slide along with a 9" touch display Growl Head unit. With all this added weight coming onto the Nav, my work gear & occasionally a work trailer I needed to up the power/response. I decided to take my slight lack of power problem to the Navlife Facebook page. Everybody highly recommended I buy an I-Drive throttle controller, and WOW! WHAT A DIFFERENCE! This was then accompanied by a Safari snorkel. Yet again, helped chosen by Navlife.
After a few months of driving around with all my extras and seeing so many Navara owners raving about their new rear bars with integrated towbars, I decided to up my game a little and have a look at all the rear bars compatible with my NP300. I came across a MCC rear wheel carrier with twin jerry can holder. Had my doubts about it, but with the intensions of getting 33's I thought it would make it so much easier in the future for tyre changes, especially hearing that 33 inch tyres don't fit underneath the NP300's. So I decided to bite the bullet and go with it. I couldn't have been happier with the outcome! Upon pickup of my Navara after the bar install, I find out that my Ute is one of the first few in Australia to have one of these bars. But along with the bar, came another issue. My Ute was now sitting low at the back because of the weight the bar and wheel had. As some people call it,
I had that 'Cali-lean' look. The only way I could see this problem being fixed, was a lift kit. So again, decided to take it to Navlife to see who/what brand they would recommend. Hands down, Outback Armour. Along with wanting the lift, I noticed my tyres were becoming low on tread. So this then caused another drama, tyres. After hunting around for 33's for 18" wheels for a couple of weeks, I realised they were way too expensive. And since not having my original 16" ST rims, I had to buy some new rims. So killing 3 birds with 1 stone, in went the 2" outback armour lift complemented by my new 16 D lockers with Imitation bedrock rims sitting on 285/75 General Grabber SRL all terrains. And man did that change it.
With the upgraded suspension I decided to test it out and add a bit more extra weight to the back by putting on a rooftop tent above the canopy. To then assist this bit of extra weight & the occasional towing, I purchased a set of rear airbags just to take a little pressure off the springs.
So, that's where it's at now. I mean there is still a few little accessories yet to be installed (light bars & spot lights, hardwired compressor in the back for the airbags) but as for now, that's all there is to list.
Any Regrets? ABSOLUTELY NOT! #navlife.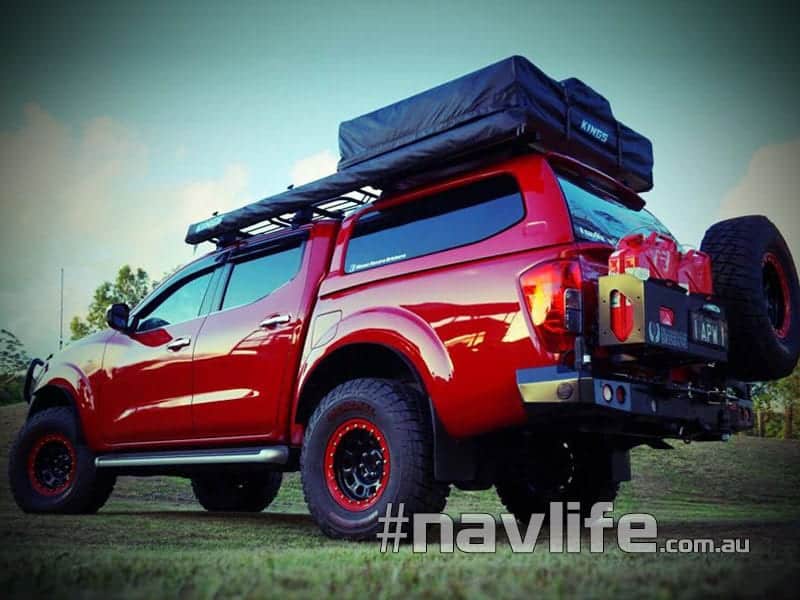 Genuine Nissan Bullbar
Tinted Windows
Genuine Nissan Waterproof Floor Mats
ARB Ascent Canopy
Rhino Rack Vortex Roof Bars
Xtray Roof Basket
Kings 2.5m x 2.5m Awning
Kings Tourer Rooftop Tent
2″ Outback Armour Lift
General Grabber SRL 285/75/R16
16″ D Locker Rims with Imitation Beadlock (0 Offset)
MCC Rear Wheel Carrier with Twin Jerry Can Holders
Airbag Man rear Airbags
Outback Accessories Rear Draws with Fridge Slide
iDrive Throttle Controller
Aftermarket Weather Shields
GME UHF
Growl 9″ Touch Screen Head Unit
Safari Snorkel
EGR Delete Harness
Waeco CFX 95L Dual Zone Fridge/Freezer
110 Ah AGM Dual Battery System